New Commenting System and Layout Update

PokeBeach now has a new commenting system for each of its news stories, kind of like a mini message board. All you have to do is click "View / Add Comments" below a news story, scroll down to the bottom of the page that pops up when you click the link, and post anything you want to that is related to the news story. I hope everyone uses the commenting system and takes advantage of it, and that we are all able to discuss the news and site updates together. Also, for those of you using Firefox as your web browser, you probably can now see PokeBeach as people can see it who are using Internet Explorer. I have updated the layout to be FireFox compatible, so it should not look messed up like it did before. So now, once you have read through this news story, go post a comment and try the new system out!

EX Deoxys Booster Packs and Theme Decks

The booster packs and theme decks for EX Deoxys have finally been revealed, as you can see below (click for larger pictures). The booster packs feature Attack Deoxys, Defense Deoxys, Normal Deoxys, and Rayquaza, while the two theme decks feature Deoxys and Rayquaza. EX Deoxys will be released early February near the release of the Destiny Deoxys movie, and as usual, we will have scans and a set list at that time. Thanks to [

PS-Games

] for the images.

The Next Japanese TCG Set

The next Japanese set will be called "Quick Construction Pack," and will be released on January 21st, 2005 in Japan. The set features six energy decks, Water, Lightning, Grass, Fire, Psychic, and Fighting, all coming with one EX corresponding to the types, which are Milotic ex, Raichu ex (a new one), Cacturne ex, Camerupt ex, Dusclops ex, and Medicham ex. All of the energy decks will be exactly the same, and will come with 15 cards in total, 7 Pokemon (1 holo EX), 3 Trainers, and 5 Energy. Pictures of the decks and their EXs (seen in the center of each deck) can be seen below. (click for a larger picture)

Worlds 2005 Info

The Japanese Pokemon website has recently released a logo of Worlds 2005, confirming that it will happen, which can be seen to the right (not like their was any doubt that it would not happen). Also, the official Pokemon TCG website has released a little tid-bit of info, stating that the location to Worlds 2005 will be revealed next month on their site. Personally, I am hoping it is in Japan or California, but until it is revealed to where it will be, no one will know for sure. Be sure to check back here soon for the location of Worlds 2005 or the official Pokemon TCG website!

Professor Program Christmas Cards

If you are a professor, then you probably have already received a holidays card from Pokemon USA. If not, then it should be coming. Anyways, Pokemon USA sent out a holidays card to all professors signed up in My Pokemon. Nothing more to say, but if you would like to see the card, you can see mine by [

clicking here

]. Thanks Pokemon USA, and Happy Holidays!I hope everyone has a Merry Christmas Eve today and that tomorrow you all have a great day! Don't forget what Christmas is really about, and be sure to have a safe and fun day!(now post in the news commenting system and try it out)

For older news from July, 2003 to December, 2004, please visit our Old News Archives. News from this point on can be found by clicking the numbered links below.

Post a Comment on PB's Forums / Register to Comment / News Story Link
.:: Friday - December 10th, 2004
SCHOOL!!! – Expect tons of scans to go up during Christmas (or Winter if you want to get all Public schooley) vacation when I finally get to sleep like a normal person and not have the burden of school for two weeks. :D

New Prof. Program Card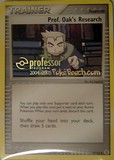 A friend of mine was able to get into his hands on a Prof. Oak's Research card with a professor stamp on it, which he recently received that is not available to anyone yet. Apparently, in the future the only way to receive the card is if you earn a certain amount of professor points, and of course if you are a Pokemon TCG professor. You can see a large scan of the card by clicking the thumbnail to the right. To visit his E-bay auction and to get the card before it becomes available to Pokemon TCG professors (which will be late 2005), you can [click here]. Don't miss your chance!

Pokemon 2005 Site Up
To everyone's surprise, no new Pokemon were shown on the Japanese Pokemon 2005 website, and not much new info was revealed on the movie, other than that Munchlax would be starring with Pikachu in the mini movie. The website did release the trailer that had been shown in Japan, which was translated in the previous update, and you can view that directly by [clicking here]. To go to the entrance page of the site, you can [click here]. If any more info pops up on the Mew movie or any new Pokemon, you can be sure you will find it here.
.:: By: [Water Pokémon Master]
.:: Thursday - December 2nd, 2004
This month and last month at school are the most hectic months of the entire year, according to all of my teachers about two months ago, and boy were they right. I have never had so much work in my life, but luckily tonight, in probably the most rarest occurrence in the history of the world, I only had English homework and nothing else! So, update, and what a good time for one too! Spoilers, spoilers, and more spoilers.

8th Movie Name + Info
The 8th Pokemon movie's name has been revealed as well as some info, and we are one of the first websites to feature this! Prepare to be surprised on who the main star of the movie will be. The movie's name, which was translated by Pokeani.com, is "Mew and the Wave-Guided Hero." The only information we know of right now is that the movie will involve a castle and how all Pokemon originated from Mew. Murgatroyd from SPPf has translated and given a description of what the teaser trailer of the movie is like, which aired in Japan today, which you can read below:

As the image speeds along the ocean's surface, scenes from past movies are played to the following narration."The many Pokemon legends that have impressed the world"(subtitled) "All began with Mew."A castle appears, then Mew appears.Then the "Pocket Monsters Advanced Generation" title scroll.Diving into the water, "Mew and the Wave Guiding Hero"Then Mew crosses above the title and the text "Opens 7/16/2005 (Sat)" is shown.

It is obvious that this movie will somehow go into the history of where Mew came from and how it evolved into all 387 Pokemon we know of today, so it will definitely be an interesting one! But what a lot of people are wondering about are the Regis. Will they tie into this movie? Will they only appear in the main series and never be featured else where? No one knows for sure, but more information will be available tomorrow with the opening up of the new official Pokemon Japanese website and the revealing of more info for the movie!

8th Season Intro

In Japan today, a new Hoenn season intro aired with the new episode, and with it came many new questions and mysteries. For example, the Regis appear in the intro, which obviously means that they will be appearing soon. Could they be in the Mew movie? Could they be in the main series? Personally, I hope the Regis somehow tie into the Mew movie, but if they don't, then they will most likely appear in the series. Also, Mewtwo is seen in the intro. Could Mewtwo be in the Mew movie? Why are we seeing it again? All of these questions will most likely be answered by Summer of 2005 when the Mew movie comes out in Japan, so we can all look forward to what will happen. To see screenshots of the intro, you can [click here]. Thanks to Filb.de for providing the actual intro, which I then took screenshots of. :)

New Pokemon
Also tomorrow, when the new Japanese Pokemon site opens up, along with it will be some new, 4th generation Pokemon! Come back here tomorrow to see the new Pokemon, since I will be staying up very late tonight hitting "refresh" on the website so I can be one of the first people to see them. :)

Future Set?
This information has not been totally confirmed yet, but apparently a new Japanese Hoenn Gym Leader set will be released soon, similar to Gym Heroes and Gym Challenge. This information first surfaced to me late in the summer of this year, and was again confirmed to me a few days ago, so I foresee a Hoenn Gym Leader set in our future! If any info surfaces on this set, you can be sure you will find it here first!

Okay, so tomorrow, come back for new Pokemon, new movie information, and many more goodies revealed to us with the opening of the new Japanese website!
.:: By: [Water Pokémon Master]
.:: Friday - November 19th, 2004
No updates again because of school, essays, projects, reports, tests, homework, yada yada yada.





The name of the next EX set has been confirmed, and so has the release date. Its name will be just simply "EX Deoxys," and will be released early February near the release of the Destiny Deoxys movie. You can see the set logo above. Some of the cards you will see in the set are Ludicolo, Jirachi, Metagross, Slaking, Salamence ex, Shining Latios/Latias, Shining Rayquaza, Sharpedo ex, all forms of Deoxys in ex form (Speed may be the only one excluded unless they decide to make the promo card of it as a card in the set), and many other cards! This set was released in summer of last year in Japan incase you do not remember, and you can see some of the Japanese scans we posted then by clicking the thumbnails and links below.



Some individual scans (click for larger scans)...





Some more individual scans (click for larger scans)...





Holos, ex's, rares, uncommons, commons, and trainer cards that are in the set. Click the links for the pictures.

[Holos / EX's]
[Rares]
[Uncommons]
[Commons]
[Trainers]


.:: By: [Water Pokémon Master]
.:: Sunday - November 7th, 2004
School has been keeping me busy again, sorry for not updating. Today we have lots of news and some updates.

City Championship (CC) Info and Promo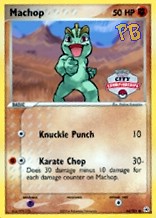 The City Championships are returning again, and we have all the info you need on them. First of all, the City Championship promo card will be the EX Hidden Legends Machop, as seen to the right. Secondly, the CC's will be running from December to January and there are a handful of locations in each state. This time around, there are more CC's than ever, so it will be almost impossible to not be able to make one (there are 10 in California just alone, and many in other states). Remember, this time, all City Championships will be absolutely free, which is definitely a plus. For more information on City Championships, including prizes and what CC's are all about, you can visit the FAQ of them at the Pokemon TCG Organized Play website by [clicking here]. To find a City Championship in your area, you can visit the CC locator by [clicking here].

New Japanese Promos
Four new Japanese promo cards have been released. The four promos include Speed Deoxys, Rayquaza, Kyogre, and Groudon. It is not known to how these promos will become available in Japan or when they will released in America, but when that info is known, you can be sure you will find it here first. The promos can be seen below (click the thumbnail for a larger image).


New Online PokeDex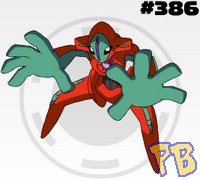 Pokemon.com has been updated with a brand new flash-based PokeDex. In the PokeDex, you can find much more info on Pokemon than what the old PokeDex displayed. The PokeDex also includes Deoxys and Jirachi now, so you can check them out as well. To launch the PokeDex, you can [click here].

Cartoon Network Stops Airing Pokemon
Cartoon Network has discontinued playing their Pokemon episodes. This could be due to several reasons, but the most likely reason to why this happened was because its ratings were so popular that Kids' WB wanted exclusive rights to air it, which is why they now show two episodes of it during the weekdays. It is not known to if Cartoon Network will be getting the episodes ever again, but until then, you can now only watch Pokemon on Kids' WB (or through your VCR, DVD Player, or computer)

More EX Team Rocket Returns Scans and Theme Deck Lists
We have added a few more EX Team Rocket Returns scans, thanks to Roarkiller. To view them, you can [click here]. We have also added the theme deck lists of the set, thanks to $teven and Daddiursa from the PokeGym, which you can view by visiting our [theme deck page].
.:: [Water Pokémon Master]
.:: Tuesday - November 2nd, 2004
Thanks to Trekiev and P0RYG0N, we now have a few more scans of EX Team Rocket Returns. To view the EX Team Rocket Returns card list and scans, you can [click here]. We will probably have all the gaps filled in by the end of this week, so be sure to keep checking back!
.:: By: [Water Pokémon Master]
.:: Sunday - October 31st, 2004
I am incredibly sleepy from working on the scans for eight hours (literally), so I am going to make this incredibly quick. We now have the complete set list of EX Team Rocket Returns, as well as 90 high-quality scans from the set. Special thanks goes to P0RYG0N, one of my PokePals from school, for typing up part of the set list and sending in some scans. To view the scans and set list, you can [click here].

Hopefully tomorrow, we will be able to finish off the set when people send in some scans of the cards missing. PokeBeach is your #1 source for EX Team Rocket Returns [don't be confused by other websites who claim to be ;)], so be sure to keep checking back here!

Everyone have a fun and safe Halloween today! Also, remember to set your clocks back an hour if you live in the United States. [except Arizone and I think Hawaii] :)
.:: By: [Water Pokémon Master]
.:: Friday - October 29th, 2004
We have a second update today since this is breaking and exclusive news to our site. If this is your first time visiting PokeBeach today, be sure to read the previous news story. You will not see the info or the scan we have today anywhere else. (read the first paragraph from the previous news story so that you understand the risks of reading and distributing this info) We will still have an update tomorrow for the EX Team Rocket Returns scans and set list, so be sure to drop by PokeBeach!



We have now confirmed that the pre-release promo is Dark Houndoom. As usual, the prerelease promo will have a golden stamp in it that states that it is a pre-release promo (click the thumbnail on the right for a larger scan). With this card scan also reveals how many cards will be in the English set, which will be 109. This does not include secret cards such as Shining Mudkip, Shining Treeko, Shining Torchic, and the Charmeleon box topper, so the set will probably have about 113 cards if those are the only secret cards.

Ok, that's it for now! This is only the second time I have done two updates in one day since I opened my site. Be sure to come back tomorrow night or Sunday morning since we will most likely be the only site with any scans, as well as them being high-quality and a lot of them. PokeBeach has, is, and will be your #1 source for EX Team Rocket Returns, so keep checking back!
.:: By: [Water Pokémon Master]
.:: Friday - October 29th, 2004
Today we have some very exclusive information regarding the EX Team Rocket Returns set and pre-releases, which you will only see here first! Before you read on with the news, read the following warning. If you DO NOT want to be spoiled on info from the set before the pre-releases happen, DO NOT read on. Also, if you choose to post this info on a forum where others may read the info, you are responsible for what happens to you and with who gets mad at you. To be cautious, it would be best not to post this info on a forum since there are many people out there that may accidentally read the info and who would become angry with having this info spoiled to them.

Anyways, on with the info! The info in this paragraph has been confirmed by our sources, and should be 100% true. First of all, the box topper for EX Team Rocket Returns will be a Charmeleon with an attack of Smokescreen (who wants to bet the boxtopper for the next set will be Charizard?). Secondly, the holo style for reverse holofoils has changed. Reverse holos will now have the name of the card in golden letters, along with a golden imprint of the set name on the card. According to our sources, the reverse holos in this set are the best yet and are totally cool then any previous set! As with the last set, the holofoil style on the cards will still be the same. With all the improvements that are being made to reverse holofoil cards, they will probably be more sought out then regular holos!

The info in this paragraph is unconfirmed and may not be true. We know that there will be a pre-release promo as there always has been for the set, but are unclear on to whether they will be different in anyway. Our sources hinted at that the promos would be different in some way, but we are unclear to what they meant. The card may not be from the actual set this time, but this info was not confirmed and may be wrong.

Now for the tournaments themselves. This info is 100% confirmed and is factual. Winners in each age category will receive a large pin for winning their age category, which did not happen before. It seems like Nintendo and POP are working really hard to please everyone who attends pre-releases, and we should be thanking them for everything they are doing compared to Wizards of the Coast!

Anyways, that's all the info we bring to you today, one day before the pre-releases start. Remember, we will have card scans of the set up on Saturday night or Sunday morning as we have in the past, so be sure to keep checking here since we will probably be the first website to have them up!
.:: By: [Water Pokémon Master]
.:: Monday - October 25th, 2004
Sorry that I have not updated in over a week. This week I had the most homework, tests, reports, readings, and essays I have ever had in my life, so I did not have any time to even attempt to do an update. This is kind of an "I am still alive" update, and I will hopefully be able to do a real update tomorrow or some time soon.

Hopefully this weekend, we will have up most of the English EX Team Rocket Returns scans as we have done with most of the past EX sets, so you can look forward to that.
.:: By: [Water Pokémon Master]